Promo Management allows you to honor your promotional prices even after the promo has ended.
Promo Management enables customers to exchange a product that they bought during the promo period with another product that was also a part of that promo. The exchange is at the promotional price even if the current price of that product is now higher.
To use Promo Management, set up your promo in Shopify, and then configure the promo in Return Rabbit. Please note that it is mandatory for you to first configure the reduced product prices on Shopify and then configure the promo on Return Rabbit. This is because when you configure the promo on Return Rabbit, the SKUs that you add to the promo will be run against our algorithms verifying that the prices of that SKU have reduced from when the promo started.
Return Rabbit keeps a copy of all price changes across all the SKUs in your store. This enables us to honor prices that existed during the promo, even after the promo has ended.
Promo Management works on the assumption that the price of a SKU before promo and after promo should be the same but during the promo, this price has to be lesser than the original price.
To begin, configure the promotional SKU prices on your Shopify store. Let's say that you are running a promo on five products, with a total of 25 SKUs across these five products. Before you set up your promo on Return Rabbit, you will need to configure reduced prices across all 25 SKUs on Shopify because when you configure this on Return Rabbit, we look for a drop in SKU price before allowing that SKU to become a part of the promo.
Once you have configured, set up and have started the promo on Shopify, go to Configure > Return Management > Promo Management in Return Rabbit.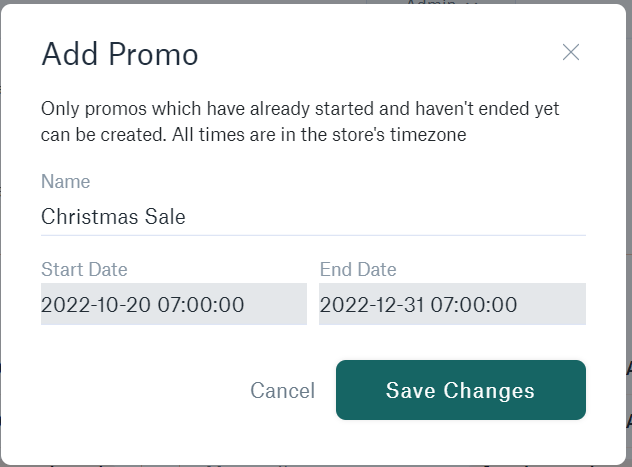 Once that is done, you will be taken to the product selection screen, where you will select what products will change their prices during this promo.
Click on "Add Promo". A model will pop up, in which you will be required to enter the promo details.

Add basic information about the promo:

Name

Start date and time

End date and time

Click on the checkbox before each product to add it to the promo. If you want specific variants, those are also visible when you click on a product name, so you can drill down to individual variants as well. Please make sure that the products you select here contain the promo pricing on Shopify, otherwise, you won't be able to add the product.
Once you have added the appropriate products, review them, and click save changes, and your promo will be added to the list of active promos.

For any assistance, please feel free to reach out to us at support@returnrabbit.com